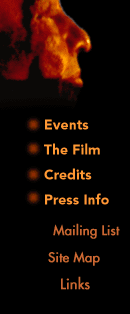 The Film
---
"A spellbinding, thought provoking film about the Rom - America's hidden, sometimes romanticized and often oppressed people."
-- Taos Talking Pictures, 1999
Project Synopsis:
There are one million Gypsies, or Rom, in America, who most people know nothing about. Never before has a camera been allowed in to explore their world. Shot over the course of five years, this feature documentary tells the lyrical tale of one Romani family in the United States who have broken the wall of secrecy surrounding their people. "AMERICAN GYPSY" follows the story of Jimmy Marks, a flamboyant community leader who becomes passionately obsessed with fighting a civil rights battle to defend his family, his history and his honor. His journey carries us into the Romani culture with scenes of Gypsies from around the world celebrating New Year in Las Vegas; the arranged marriage of teenagers; and car salesmen in Stetson hats driving Cadillacs.
AMERICAN GYPSY is a glimpse of an immigrant world that is either on the verge of extinction or at a critical turning point for survival. It is a world that most of us have never had the chance to visit because this is the first time it is being presented on screen.
[Click here to Jump To Longer Description of Project]
---
Running Time:
79'40"
Year of Production:
1999
Sound:
Stereo
Language:
English (& Romani)
Original Format:
Betacam
Country of Origin:
USA
Screening Format:
Betacam SP (NTSC or PAL available)
A film transfer is anticipated.
Original Format:
Betacam SP (NTSC)
Preview format:
VHS (NTSC or PAL available)
---
Events
The Film
Credits
Press Info
Mailing List
Site Map
Links
---
© 1999, Little Dust Productions. All rights Reserved. Updated in: May-00